Fan guard clip clamps & screws great to mount fan guards to fans
Safety metal wire fan guards grill for PC computer cooling fan and electric fan in various designs and sizes are our main products. Fan Guard Clip Clamps and screws are also offered by our company. Fan guard clip and clamps are just what you need for attaching case fans to your computer. Fan screws with black powder, nickel chrome or gold plating is used for mounting fan grille guards to cooling fans, or attaching a fan to your hard drives.
Usually, self-tapping black screws are a more inconspicuous way to mount wire fan guard grill, as most fan housings are black. Bright chrome plating screws are used for mounting chromed metal fan cover to cooling fan, gold screws for gold fan guards.
Fan Guard Clip and Clamps
Black screws are the common screws for fasten wire fan grills to fans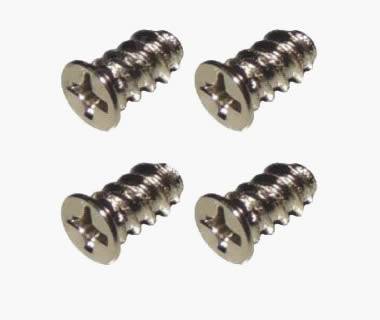 Chrome fan screws work great to fasten fans to cases or fan grill guards to fans
PC Computer Case Fan Screws - Gold plating