Wire mesh baskets - high strength and heavy loads capability
Apart from wire fan guard grill and light guard, our company also design and supply a wide variety of wire mesh woven baskets used to store and transport different materials and goods, such as eggs, fruit and vegetable, book and paper files.
Wire mesh baskets are woven from first class stainless steel wire material, then epoxy power coated or not. Its material and finish gives it high resistance against corrosion. With beauty appearance and durable nature, high strength and heavy loads capability, our wire baskets find wide application in dairy and poultry industries, family and office.
Wire baskets styles as below picture. Our skill experts can design new styles for you, and we also can manufacture wire baskets according your drawing.
Stainless steel wire mesh fruit baskets-1
Wire mesh basket-2
Wire mesh basket-3
Wire mesh basket-4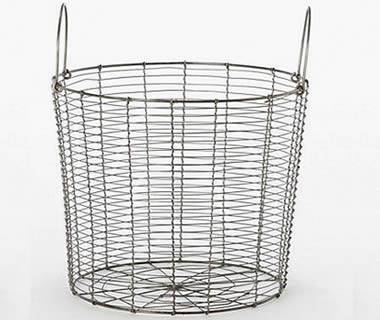 Wire mesh basket-5
Wire mesh basket-6
Wire mesh basket-7
Wire mesh basket-8
Wire mesh basket-9
Wire mesh basket-10